Installation
In Need of New Hydraulics? Seek Our Installation Services
More and more, factories, industrial facilities and construction companies are turning to hydraulic equipment as a cost-effective way to generate power. And it's no wonder, because time after time, these machines have proven more precise, efficient and durable than many other solutions on the market. Not only that, but because hydraulic equipment relies on pressurized fluid to work, it also proves an extremely powerful tool, making it suitable for a wide range of applications. If your company needs new hydraulic equipment or your existing machinery could use an update, call the Hydraulic Energy Applications & Technology (HEAT) team. We offer efficient installation services, using both new and refurbished equipment.
Design & Installation
At Hydraulic Energy Applications & Technology, we design all systems ourselves, equipping them with features and functionalities best suited to each business. Whether you are in the manufacturing or food processing industry, we will consider your company's needs and use that information to create a custom solution. Afterward, we will present you with the design. And once you've approved it, we'll get to work setting the system up.
During this process, our experienced professionals work hard to ensure your safety on site. From assembly to initial system startup, we install each component with care. And when we're finished, we'll run the entire system through a series of Factory Acceptance Tests (FAT), ultimately ensuring that everything is running as efficiently as possible.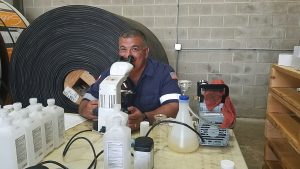 Upgrades
Beyond installation services, we also offer equipment upgrades for old and outdated machinery. We can repair or replace any broken part using products backed by trusted providers. By having us retrofit your equipment in this way, you save money on a new system, all while increasing your company's performance and productivity.
Learn More
For additional information on our upgrade and installation services, call 630-509-3144 or send us a message through our online form. We are located at 1300 Industrial Dr. Unit B, Itasca IL 60143, and proudly serve companies in the surrounding cities.